The Department of Anthropology at the University of California, Irvine offers a program of graduate study leading to a Ph.D. degree in Anthropology as well as a terminal M.A. degree in either Medical Anthropology or Science and Technology Studies.
Anthropology Ph.D. Program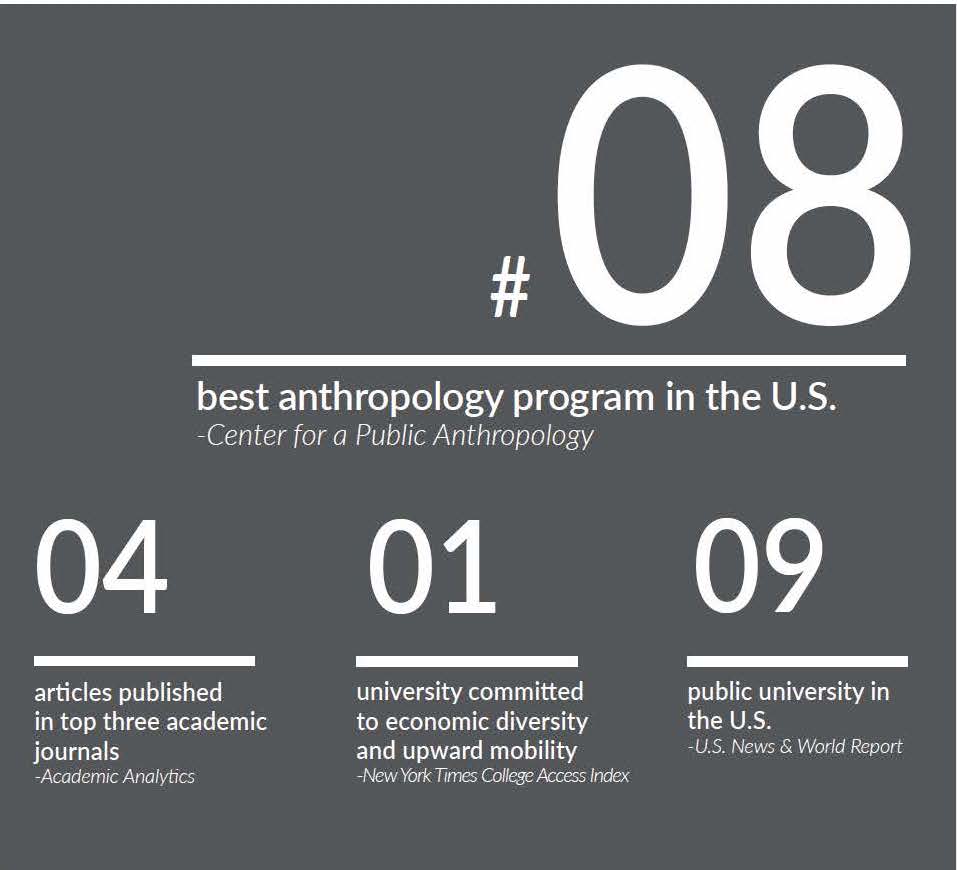 The Department of Anthropology Ph.D. program at the University of California, Irvine focuses on social and cultural anthropology. Graduate training in anthropology involves a period of long-term, independent fieldwork, generally (though not always) outside the United States, and often conducted in a language other than English. Graduate students generally obtain grants or other external funding to conduct their fieldwork. Attentive to our discipline's past and indeed the paradigm of disciplinarity that has structured social inquiry since the early 20th century, our program gives students a breadth of knowledge in traditional anthropology and the traditional subjects of anthropological study. At the same time, we push the boundaries of the discipline and use our ethnographic work to stretch the anthropological imagination.
The department provides students with superb training in both theory and method. Areas of teaching emphasis include: the anthropology of modernity and development; political, legal, and economic anthropology; ethnographic method; and the anthropology of science, technology, and medicine. In addition, Ph.D. students have the option of enrolling in a number of graduate emphases that involve interdisciplinary work in a number of schools and programs across the campus, including feminist studies, critical theory, visual studies, translation studies, and others. The department is committed to fostering new and innovative approaches to anthropological inquiry in a pluralistic and intellectually open academic environment. The faculty take diverse theoretical and methodological approaches to a variety of substantive issues. They are united, however, in a willingness to question taken-for-granted theoretical premises and analytic frames, and to engage in intellectual dialogue about alternative models and approaches.
The department's graduate students have an unparalleled record of research funding, receiving prestigious grants and fellowships at higher rates than the national average. Since 1995 they have garnered over $1.5 million to support their dissertation research. They publish their work in top-ranked journals, and the department has an excellent track record of placement. Please refer to the section on Ph.D. recipients to learn more about the employment opportunities secured by Ph.D. recipients from the Department of Anthropology.
Anthropology Masters of Arts in MSTS
The Department of Anthropology offers a Masters of Arts concentration in the School of Social Sciences focused on Medicine, Science, and Technology Studies, informally known as the M.A. in MSTS. Students who complete the program will earn an M.A. in Social Sciences (Medicine, Science, and Technology Studies). Click to view flyer.
This degree is the only terminal M.A. degree in either medical anthropology or science and technology studies in the University of California system. The program recognizes that these two fields and the social phenomena they examine are inextricably linked, and flexible course offerings provide students with an opportunity to pursue projects that focus on either field or that bridge both areas of study.
Ethnographers of medicine, science, and technology are in high demand, and the M.A. in MSTS will enable students to respond to the significant and rapidly changing impact of medicine, science, and technology upon economies and societies around the world. The program helps to prepare students for a range of employment opportunities in academia, public health, technology industries, and the nonprofit sector.
The program is administered by the Department of Anthropology, but draws on the expertise of faculty across the Irvine campus.
The University of California, Irvine
UCI is one of the ten campuses of the University of California. Established in 1965, UCI has rapidly become a major research university. In 1995 members of its faculty were awarded Nobel Prizes in both physics and chemistry. The campus is located 40 miles south of Los Angeles and five miles from the Pacific Ocean near Newport Beach and Corona del Mar. The city of Irvine itself is a comprehensively planned suburban area, with the campus located on its southern periphery. Attractions of the area include a pleasant year-round climate and miles of beautiful beaches only minutes from campus. For a virtual tour click here: UCI Virtual Tour.
Nondiscrimination Policy Statement
The University of California, in accordance with applicable Federal and State law and University policy, does not discriminate on the basis of race, color, national origin, religion, sex, disability, age, medical condition (cancer-related), ancestry, marital status, citizenship, sexual orientation, or status as a Vietnam-era veteran or special disabled veteran. The University also prohibits sexual harassment. This nondiscrimination policy covers admission, access and treatment in University programs and activities.
Inquiries regarding the University's student-related nondiscrimination policies may be directed to: Office of Equal Opportunity and Diversity, 524 Administration Building, Irvine, CA 92697-1125, telephone 949-824-5594.
Director of Graduate Studies
Professor Justin Richland
3556 Social & Behavioral Sciences Gateway
Director of Graduate Admissions (Ph.D. and M.A. MSTS Program)
Associate Professor Keith Murphy
3306 Social & Behavioral Sciences Gateway